The last mechanized lock of the Aire and Calder Navigations is now behind us. It is back to getting ourselves through the locks using human muscles. I will miss the ease of the mechanized locks, as will my arthritic shoulders.
And it appears that the mechanized locks did not want to see us go either. We entered the lock as planned but then the lock would not allow us to exit. Instead, we saw a lighted FAULT light. A couple of hours later, after help from Canal and River Trust, we were able to raise the water level, open the gates and leave the lock. Whew! For awhile there we seemed destined to age in place. :-)
See that blue line on the map of the UK below? That is the Leeds and Liverpool Canal that will start traveling on this Tuesday (we have to book our way through some locks). We will be moving from east to west (right to left) towards the Atlantic. Yep, we are fairly far north during the darkest time of the year making our daylight hours even shorter. Not good planning but nothing to do about it now. :-)
The below map shows you the canal on a bit more standard map.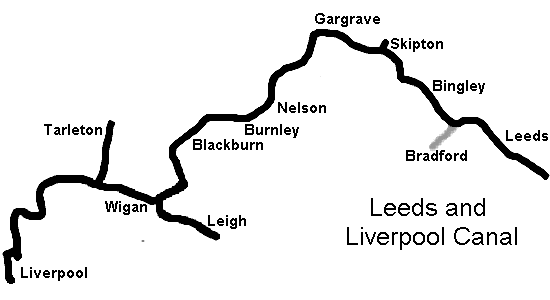 And, above, is a simpler look at the canal's path.
The canal is 127¼ miles long and it links the north west seaport of Liverpool with the Aire and Calder Navigation at Leeds, forming a through route between the Irish Sea and the North Sea.
We will be leaving Leeds and heading towards the market town of Skipton. Then, we will travel through remote and gorgeous countryside as we ascend towards what is known as the "backbone of England" or the Pennines. And, then the final stretch through beautiful moorlands towards Liverpool and the Lancashire plain. I will be opening and closing a fair share of locks to accomplish this upwards and downwards route but the countryside should make it all worthwhile.